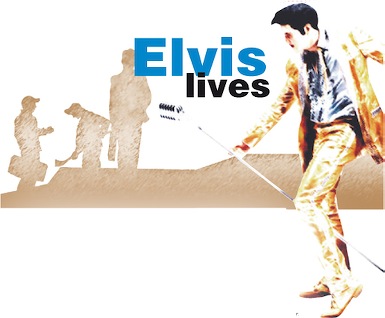 Advanced:


On August 16 2007, 70,000 Elvis Presley fans came to Graceland. They were there for the 30th anniversary of the death of the King of Rock and Roll.

But there were devoted Elvis fans who stayed away from the Presley family home in Memphis. 'He's not buried there,' they insisted, 'because he's not dead,'

There were rumours from the beginning. Some fans had always refused to believe that their hero had died from heart failure, aged 42.


Not dead?


Suspicion increased when an autopsy report mysteriously disappeared. And many pointed to something Elvis often said in his final concerts: 'I don't look very good now, but I will look good in my coffin.' What was he trying to tell his fans something?

There were several theories about this supposed 'fake death'. Elvis had escaped his fame and returned to a simple life. Or he was hiding from the Mafia in a FBI witness protection programme. Or working as an undercover drugs agent for the government (listen to more about this here). Or as a CIA spy.

Some even suggested extra-terrestrial involvement: 'Aliens Kidnap The King.'


Colonel Parker


The most believable theory involved Presley's manager 'Colonel' Tom Parker. Parker had a history of faking things - including the story of his own life. 'I come from West Virginia,' the Dutch illegal immigrant told the press. 'I ran away from home to join my Uncle's circus.' None of this was true.

Parker had brilliantly stage-managed his star's career. He reinvented Elvis several times: from wild rock and roll star to film star to Las Vegas cabaret act. The Colonel even made Elvis join the army to improve record sales. And the sudden, tragic death of the King of Rock and Roll did sell a lot of records.